Featured Artist: Leigh Designs
We have a collection of Leigh Designs canvases in Kits To Go, including the "Pink Aster" pictured right. These canvases were designed exclusively for River Silks Ltd. Of course, as soon as we got the canvases, we had to stitch them. We love the results, and hope you have fun stitching them, too. These kits are quick to do, and are a great introduction to ribbon stitching- only two stitches to learn.
Now, Leigh Designs is representing River Silks ribbon at markets! Stop by their booth and get your "oooooh" fix!
"Red Hat" Leigh Designs created this stunning canvas as an exclusive for River Silks. Highlighted by a giant red ribbon spider rose, this canvas is sure to get the attenion of all red hat ladies. Stitch Guide available.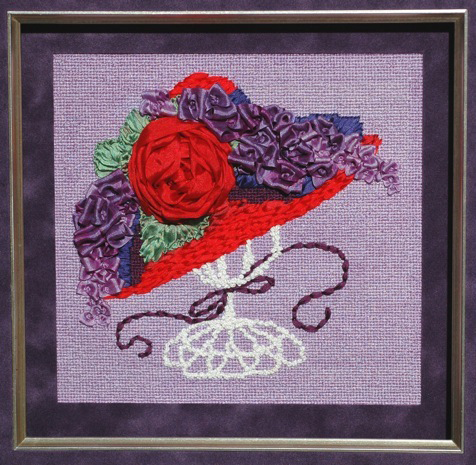 "Karura" by Leigh Designs, stitched by Paul Krynicki. Stitch Guide available.